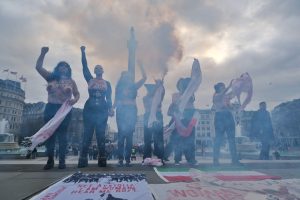 On 1 February, World Hijab Day, women took part in a global body riot to defend the women's revolution in Iran and for woman, life, freedom. They took action, topless or with bras on, to challenge compulsory hijab rules that has killed Mahsa Jina Amini on 16 September and has and continues to suppress countless women and girls in Iran, Afghanistan and across the globe.
In London, women carried out a topless action at Trafalgar Square. The action was organised by CEMB, One Law for All and FEMEN and received coverage, including;
Iranian topless body riot feminist protest, Trafalgar Square, London, Newsflare, 1 February 2023
Mahsa Amini protesters go topless to reject World Hijab Day in London, Newsflare, 1 February 2023
Maryam Namazie says: How dare you celebrate World Hijab Day when so many women being killed for improper veiling.
Imago Images, Topless Protest, 1 February 2023
Body Riot, RexFeatures, 1 February 2023
Zuma Press, Topless women protest Iranian regime, 1 February 2023
Videos of women taking off hijab on 'World Hijab Day' goes viral, Times of India, 2 February 2023
Women joined in protest and on social media including in Iran.
The slogan 'body riot' comes from graffiti written on walls in Iran. It also follows on from photos posted by women in Iran showing their bras with their faces hidden and key slogans such as 'You are the pervert; I am a free woman.' (London protest photos by Neil Monaghan. Video by Reason4Freedom.)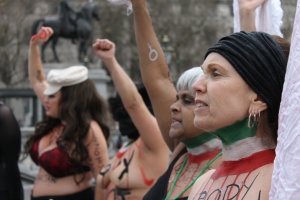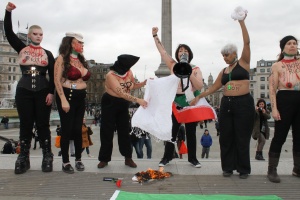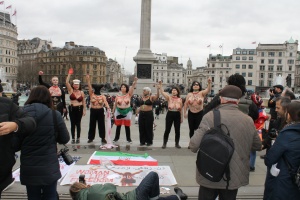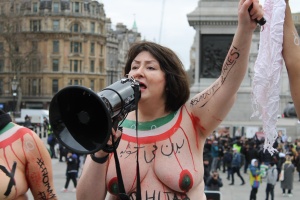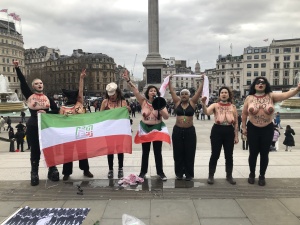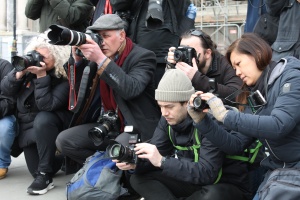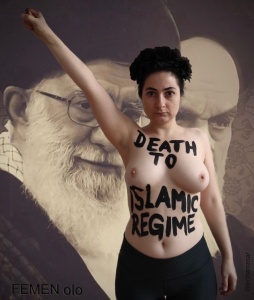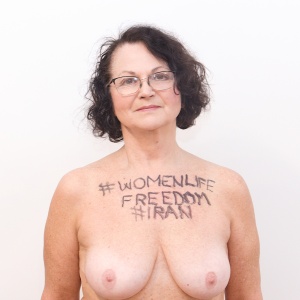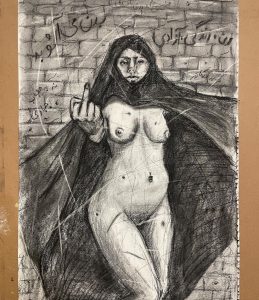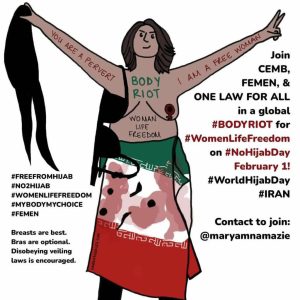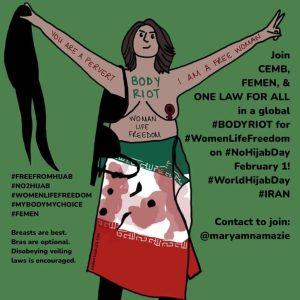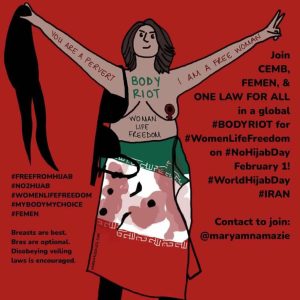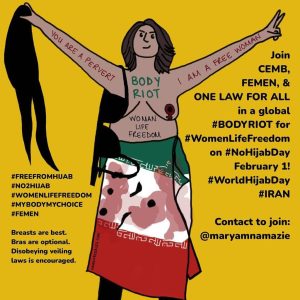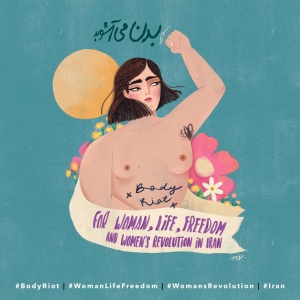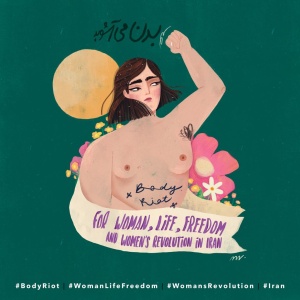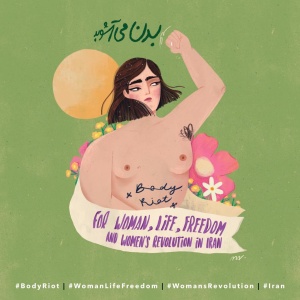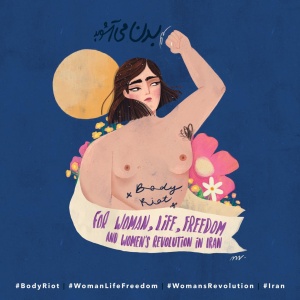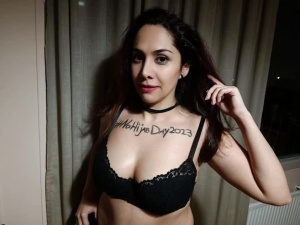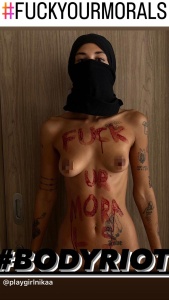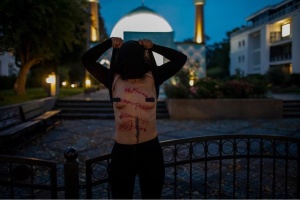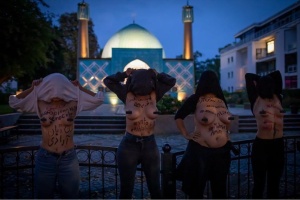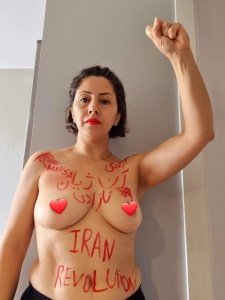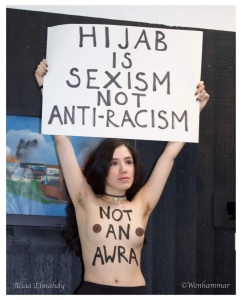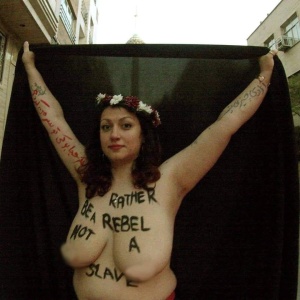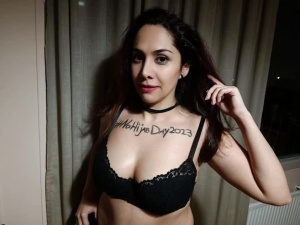 The #BodyRiot hashtag was suppressed by Instagram and Facebook, which continued to aid the Islamists in maintaining restrictions and body-shaming women and girls.
Whilst adult women have a 'right' to wear the hijab, on a mass social scale, the hijab is anything but a right and a choice, particularly given that it is a religious command that woman from Muslim backgrounds must follow. It is often imposed by brute force, violence and threats, shunning and intimidation, even in non-theocratic countries.
Moreover, it is important to note that World Hijab Day is part of the Islamist project to normalise restrictions on women's bodily autonomy and has nothing to do with personal choices.
On 1 February, we rage against the hijab as a tool for restricting and policing women's bodies. We stand in solidarity with the many women and girls in Iran removing and burning their hijabs. We celebrate the body rioting against religious and patriarchal rules and norms.
#BodyRiot for #WomanLifeFreedom. On #1Feb #HijabDay we call for #NoHijabDay #UnapologeticBodyRiot #UnapologeticBody.
For more information, please contact Maryam Namazie (maryamnamazie@gmail.com, +7719166731) and Jenny Wenhammar (jennys.dreamroom@gmail.com, +46 73 536 22 62)
بدن_می_آشوبد برای #زن_زندگی_آزادی در #روز_حجاب #نه_به_روز_حجاب #ایران سازمانهای فمن، اکس_مسلم و قانون برابر برای همه فراخوانیک روز جهانی برای سینه‌ها و سوتین‌های برهنه به عنوان چالشی علیه روز حجاب و برای زن، زندگی، آزادی داده اند. لطفاً توجه داشته باشید که زنانی کهترجیح می دهند می توانند سوتین خود را نگه دارند و/یا صورت خود را پنهان کنند. برای پیوستن به این اعتراض به جنی ونهمار یا مریم نمازی پیام دهید
هشتگ ها را روی تکه های کاغذ یا روی بدن خود بنویسید.  خشم خود را علیه احکام اسلامی و مردسالارانه که بدن زنان را حرام و مایه فتنه در جامعه میدانند‌نشان بدهید.
برای پیوستن به تظاهراتی که در لندن و دیگر شهرها برگزار می شود، با مریم نمازی و جنی ونهمار تماس بگیرید.
اگر نمی توانید به یک اعتراض بپیوندید، با استفاده از هشتگ ها عکستان را در مطبوعات اجتماعی چاپ کنید.  در صورت تمایل می توانید صورت خود راپنهان کنید و سوتین بپوشید یا برهنه باشید.